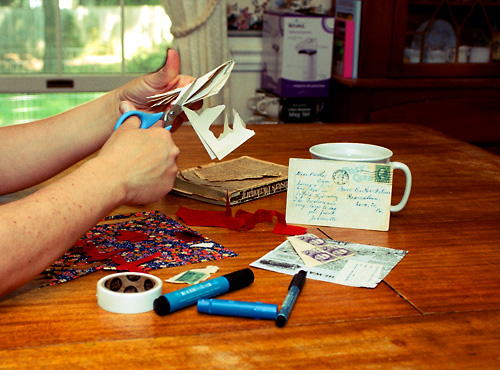 Currently a mixed-media conceptual artist, I've been creating art for most of my life. My method continues to evolve, along with the understanding of my place in the universe. Primarily fascinated by the written word, my work began with a desire to work with calligraphy. Over time, my work has shifted from the words/letters dominating the central focus, to the prominent feature being the visual representation of the meaning behind the words. In other words, the visual draws the viewer in, and on closer inspection, discovers the words that influenced the piece. Though willing to work with most media, the texture that papers afford is a big draw. Everything from printed napkins to silk screened Japanese papers have made their way into my work. Major influences include Ezra Jack Keats(execution), Norman Rockwell (conceptual), and M.C. Escher(perspective).
Please visit a fellow artist's website: Fitzgerald Fine Arts
http://www.fitzgeraldfinearts.net
News/Schedule
July 2017
I've been accepted into the Pleiades Gallery "Truth To Power 5" show, July 13th through August 6th.

http://pleiadesartdurham.com/upcoming-exhibits/
I'll be showing my work in the Halle Cultural Center's Spotlight Gallery in Apex NC, July 23rd through September 1st.

http://thehalle.org/458/Visual-Art-Exhibits
June 2017
I'm participating in the Carrack's 6th community show, June 8 through June 23rd.

http://thecarrack.org/exhibitsandevents/
April 2017
With student participation, I am creating a mixed media art installation at Chapel Hill's Ephesus Road Elementary school for STEaM Night, april 20th, 5-7:30 p.m.

ees.chccs.k12.nc.us
I'm holding an on-campus mixed media tutorial for UNC Chapel Hill's Undergraduate Art Association on April 12 from 6:30-8:30 p.m.

UNC Chapel Hill's Undergraduate Art Association
I'm participating in participating in the Twitter Art Exhibit 2017 charity auction for Molly Olly's Wishes.

www.twitterartexhibit.org

www.mollyolly.co.uk
January 2017
I'm participating in the Carrack's "Nasty Women" show that runs from the 20th to the 28th of January, located in Durham. 100% of the money made from work sold will go to Planned Parenthood.

www.thecarrack.org
I'm participating in the 19th annual Visual Aids' 'Postcards From the Edge 2017' auction for AIDS awareness, Jan. 13-15 2017.

www.visualaids.org
December 2016
I participated in RTP Frontier's "Mistletoe Market" December 8th.

http://www.rtp.org/event/mistletoe-market-at-the-frontier-2016/
A writer, Princella Talley, asked to interview me and the interview can be found at:

http://amillennialwriter.com/molly-cassidy-mixed-media-art/
October 2016
'Darkest Before the Dawn' was awarded Best in Show at the Halle Cultural Arts Center in Apex,NC, for their 'Politics of Love' exhibition. It and another piece, 'The Best She Can Give' can be seen until November 21.

www.thehalle.org/
'above and below' and 'morning has broken' have been chosen by the Cart Visual Art organization for the gallery at the Apollo Medical Center in Morrisville, NC. If will be on display from October 2016 until March 2017.

www.caryvisualart.org/
My work was chosen to be one of nine of Chapel Hill's Banned Books Trading Cards for 2016.

For info, and to go get a set, go to:
www.chapelhillpubliclbrary.org
September-October 2016
My work will be on display at 24 South Coffeehouse in Wilimington during September and October.

24 South Coffeehouse website

24 S. Front St.
Wilmington, NC 28401
July-September 2016
My work will be on display at the Raleigh Contemporary Art Museum from July 1st thru September 4th for CAMstellation. The display will be part of the First Friday events for August and September.

Raleigh Contemporary Art Museum
June-August 2016
My work will be on display at the Looking Glass Cafe from June thru August with a reception being held there June 10th from 6-9pm.

Looking Glass Cafe website

601 West Main St.
Carborro, NC 27510
May 2016
My work will be presented in the two large display cases at the Senoma Arts Center during the month of May. There will be a reception May 1st from 1-4 pm.

Senoma Arts Center website

1400 West Milbrook Road
Raleigh, NC 27614
April 2016
I am participating in Raleigh's First Friday at the Architect Bar as a contributor to True Justice Global's art auction for refugee relief. I have been made a spotlight artist on the True Justice Global facebook page.

True Justice Global website

The Architect Bar
108 E. Hargett St.
Raleigh, NC 27601
January 2016
My work will be on display at Caffe Driade in Chapel Hill, NC for the month of January, and will be a stop on Chapel Hill's 2nd Friday Artwalk January 8th, with an opportunity to stop in and meet with the artist.